Close calls, disallowed goals, questionable red cards and missed penalties. For the past two decades, watching England at a major tournament has been anything but boring and nearly always provides gripping drama.
Unfortunately, far too often, it's that thoroughly depressing type of drama where there's no happy ending and little but pain and dejection along the way. Much more Requiem for a Dream than It's a Wonderful Life.
In the final act, our brave heroes don't triumph against adversity and leave us all with hearts warmed and spirits raised. Rather it usually sees our brave heroes miss from twelve yards and leaves us all thoroughly p*
ssed
off for the rest of summer.
Yet every time England make it through to the finals of a major tournament, the country shuts down regular service, domestic animosities are set aside and we dare to dream once again. Like the gluttons for punishment we truly are.
Before the World Cup in South Africa gets under way, I thought I'd look back at my own experiences watching England's past failures, and try to establish which exits really hurt the most.
World Cup

Italia

'90.
I was only a wee lad when the Italian World Cup took place, but I can still vaguely remember the buzz around the country at the time. After the disappointing 1980's, this was the strongest England team we'd had in a while with Messrs Butcher, Pearce, Robson, Waddle, Barnes, Beardsley,
Linekar
and of course
Gascoigne
, all at the peak of their game.
This was the tournament of
Nessun
Dorma
, the
Milla
wiggle, Salvatore
Schillaci
, and hardly any goals. Indeed
Wikipedia
reliably informs me that
Italia
90 generated a record low goals-per-game average for a World Cup (a treat for all you fact fans out there.)
Following an uninspiring group stage, England faced Belgium the last 16 and needed a dramatic winner in the last minute of extra time from David
Platt
to see us through. Then, after going behind to Cameroon in the Quarter Finals, two Gary
Linekar
penalties saw us stumble into the semi-finals against the much fancied West Germany.
It was this semi-final against West Germany that has been forever etched on the conscious of English fans. While I may have only flitting memories of this tournament, the scenes from this infamous game are repeated so regularly, that it really does seem like only yesterday.
The Germans hit first as
Brehme's
free kick took a wicked deflection and looped in off Paul Parker to give the Germans the lead. Luckily, the clinical
Linekar
smacked home from close range (obviously) with ten minutes to go to take the tie to extra time.
In the 99
th
minute, in what was to become one of the most
inconic
images of the World Cup,
Gazza
over ran a ball on one of his forays forward and foolishly lunged in aggressively on a German player. As soon as the ref blew for the foul,
Gazza
was already pleading his innocence and begging the official not to show a card, knowing full well this would rule him out of the final. Unfortunately for him, the referee didn't change his mind (take note Ricardo
Carvalho
, they NEVER change their mind, no matter how innocent you look) and the distraught
Gascoigne
, unable to hide his emotions, let out some of the most famous tears in TV history.
Now, when England games go to extra time these days, that's taken as our cue to begin accepting defeat. Back in 1990 however, there was no such hoodoo hanging over us. As crazy as it sounds, we had every chance of actually winning this shoot out.
Unfortunately, with the score at 3-3, Stuart Pearce missed his penalty. That sinking feeling began to be felt across the country. Then, after the Germans successfully converted their fourth, Chris Waddle stepped up, needing to score to keep England in the tie. In what could quite possible be the most re-watched penalty miss of all time, the
mulleted
winger missed his spot kick. Maybe 'missed' is not quite an accurate description here. '
Twatted
it hopelessly over the bar', is perhaps more fitting.
And with that, the nation had received its first real taste of penalty heartache. How little we knew what was still to come.
Italia
90 was perhaps a little too early to hit me really hard. Being only 5 at the time, I imagine I recovered fairly quickly from the disappointment, in fact it was probably as soon as fish fingers and
alphabites
were announced for tea.
The impact this game had on the national psyche though can never be underestimated. This was our best chance to win the trophy in years, and to go out in such an agonising way to the old enemy, was a truly bitter pill to swallow.
Pain rating: 8/10
Euro '96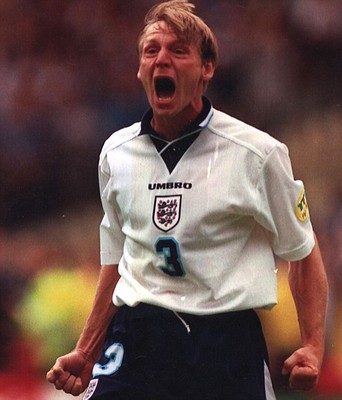 Much like the England team itself, I won't bother with the forgetful Euro '92 tournament and in fact Graham Taylor's reign in general.
World Cup 1994 in the USA I do have fond memories of though, as this was the first major tournament I can remember watching avidly. Despite England's lack of qualification, the scorching temperatures and the crap TV viewing times (how selfish of the Yanks not revolve it around English viewers), it produced some memorable games, and also ensured I would forever remember the names of
Oleg
Salenko
, Martin
Dahlin
and
Yordan
Letchkov
(what a header).
Returning to our focus of great English failures however, we must now tackle the summit that was Euro 96. A competition it is now impossible to reminisce about and not start humming 'Three Lions' in your head.
Football was coming home, and after 6 years of dross under Graham Taylor, England went into the tournament not only as hosts, but as one of the favourites in their own right.
Gazza
had rekindled his career, Adams and Pearce were commanding the defence,
Ince
was commanding the midfield, and Shearer and
Sheringham
were scoring for fun.
The country usually slows down quite noticeably when major football tournaments are on and reverts to the same casual approach to work that we tend to adopt in the week running up to Christmas.
This time however, it went one step further. It was a strange joy to behold as the whole country ground to a halt for the summer and you could barely turn on a TV without football being mentioned in some way. Thinking back, this must have been quite annoying for someone who dislikes football, but then again........f*ck em.
I turned 11 the day before this tournament started, and for me this was the first one where I was really involved and fully understood what I saw before me. As an 11 year old, there were few things, if any, that meant more to me than football. I played for a team, I was already a season ticket holder at Stoke, I watched football
Italia
every week (god it was mostly shite wasn't it?), in other words, football was my life.
It was also the summer at the very end of my primary school years and I remember being incredibly nervous about it all ending and making the move up to 'big' school. For me and my mates, all aged 11, this tournament seemed like literally the greatest thing to ever happen to us and we got fully swept up in
Euro's
fever. We watched all the build up, had the sticker albums and brought the Three Lions single, nothing could ruin this perfect summer............Oh the naivety of youth.
Everything started out well enough, after a ropey draw against the Swiss, we faced the Scots at
Wembley
in a truly memorable encounter. Shearer was unstoppable in this tournament and he scored for the second game running in emphatic fashion. The highlight of the match though was THAT goal by
Gazza
. He'd had a mixed time of it since Italy in 1990, breaking his leg in a Cup final, struggling to make an impact with
Lazio
in Italy and then rekindling his career, ironically in Scotland with Rangers.
The Geordie genius, as no-one calls him, was on fire in this game, and everyone who watched will remember his goal with
HD
like clarity. Running down the left hand channel, deftly flicking the ball over Colin
Hendry's
head, leaving the burly
Scotman
flat on his arse in the process, before rifling the ball into the back of the net. Then of course he debuted the now legendary 'Dentist Chair' celebration to the world.
I wager few goals have been emulated, or at least prompted so many attempts at emulation, as this one. To this day, it is physically impossible to chip the ball over a defenders head and then not try and twat it low and hard into the goal afterwards. Our neighbours back at my parents house can attest to this fact as I spent many afternoons that summer chipping imaginary defenders in our back garden, only to forget the 'hard and low' aspect of the finish and send yet another ball flying into their garden. Now I'm not saying
Gazza
invented this combo, but rarely before has a goal struck such a chord with the public.
In any other tournament, this game would be England's highlight, but there was still so much to come.
Our final group game was, in theory, a difficult encounter with the Dutch. It turned out however that we needn't have worried as what followed was one of the greatest victories in England's Euro history.
I remember that when this game was on, we were on a camping trip with school. Seeing the enormity of the encounter however, they wisely set up a TV for us to watch the game on. Without getting too 'Stand by me' about it all, it was kind of special watching the game with all my school friends, especially seen as very soon we'd all go off to different schools and in reality not really see each other that much again. Naturally we were all obsessed with football, and since we hadn't yet discovered alcohol and girls were still just annoyances, playing football for hours on end was all we really wanted to do.
This was meant to be our most difficult group game, but Terry
Venabals's
England tore the Dutch apart, and the lethal striking partnership of Shearer and
Sheringham
claimed a brace each to see the game finish 4-1.
The TV room at school camp erupted at the final whistle and we all celebrated the only way we knew how at that age, by running back outside onto the nearby pitches and playing football for another 4 or 5 hours. Halcyon days. Next up was Spain in the quarter finals.
The sighting of Hally's Comet, an away team getting a penalty at Old
Trafford
,
Arsene
Wenger
witnessing a late Arsenal tackle, there are some events that are so rare, so unexpected and even unnatural, that when they do happen, the whole world sits up and takes notice. On the 22
nd
June, 1996, a natural phenomena such as this took place. It took everyone by surprise, and many weren't fully prepared for it, but somehow, someway, England won a penalty shoot out.
Technically, back then, in the heady days of the mid nineties, there wasn't the historic track record of spot kick failure that England has now. At the time of the game against Spain, the disappointment of
Italia
90 was the only major penalty related disaster to have hit mainland UK to date. With the benefit of hindsight however, we are able to truly see how rare and beautiful this event was.
The match itself was actually really forgettable,
finsishing
0-0 after extra time. Few who watched the game however will forget the strange sense of amazed relief that hit when David Seaman made that save from
Nadal
to clinch victory in the resultant penalty shoot-out. In addition few of us will forget that bloody awful garish kit he had on.
The other enduring image from this game was undoubtedly Stuart Pearce's thunderous penalty. In all honesty, I bet a large percentage of the viewing public were far from confident at seeing Psycho step up to take our third penalty. Thoughts raced back to Turin six years ago, when the passionate defender failed to convert his spot kick and was left a broken man in the centre circle as the Germans snatched victory.
Six years on though, showing immense character and bravery, Pearce demanded to take a penalty, stepped up and finally laid those demons to rest. As he smacked his penalty home, and boy did he SMACK it home, you could see what a huge weight this was lifted off his shoulders after so long. His clenched fist celebration, complete with a guttural roar towards the England fans, was a truly inspiring moment to behold.
And so, we come to the semi-final. Even as I begin typing it, a slightly sick feeling forms in my gut, and my bottom lip quivers a little bit. Forcing yourself to relive this game is like forcing yourself to watch a harrowing war film. You know it's not going to be pleasant, you know it's laced with nothing but pain and misery, but it needs to be watched so you can learn from previous mistakes and besides, if nothing else, it builds character.
So there we were, 6 years on from the disappointment in Turin, once again facing the Germans in a semi-final. This time though, we were on home turf and the vociferous crowd at
Wembley
would
surely
give us that little bit extra. *sigh*.
I watched this game at one of my friend's houses and there were 4 or 5 of us there, all about 11 years old, too young to have fully felt the heartbreak of Italy 6 years previously. This was our biggest game ever, never before had a football game taken on such profound meaning. We'd spent all summer watching, playing and talking about football, and now we'd gathered together to watch England beat the old enemy.
We were well on our way after only 3 minutes with Shearer scored yet again with a
bullett
header to power us into the lead. About 15 minutes later however,
Kuntz
(insert your own joke here) grabbed an equaliser for the Germans.
The rest of the game was fairly evenly poised as I remember, but with neither team finding that elusive winning goal. Perhaps the enduring memory I have from this game however, came deep into extra time. After several near misses, and surviving a disallowed German goal (this was the tournament of the golden goal remember, one goal in extra time was all it took), England spread the ball out wide (I forget who provided the cross, possibly Darren
Anderton
), and there was
Gazza
steaming into the box to finish off the move.
Re-watching this clip now, as the balls trickles along the face of the goal, with the German keeper stranded out of position and their defenders trailing helplessly behind, you can pause it at any point and you will swear blind
Gazza
will make that ball.
He is motoring into the six yard box, the goal is there at his mercy. All he has to do is get a touch, and the ball is flying into the net.
Back in 1996, at my friend's house, we were all preparing to celebrate, fists were already clenched, bodies shifted to the edge of the sofa for maximum celebratory lift, and breaths collectively inhaled.
Somehow though, in a cruel twist of fate, the ball eluded the stretching
Gascoigne
, and continued it's harmless path across the face of goal. Multiple replays appeared to show the ball bobble just over the tip of
Gazza's
boot. If his shoes were one-size bigger, the whole story could have been different.
If ever a film needs to use a sound effect to demonstrate the sound of 75000 people conveying utter disbelief and despair, they need look no further than the footage from this game.
Across the country, heads plunged into hands, and whole new swear words were invented and blasted towards the TV.
Every time I re-watch the clip, a little bit of me still hopes it will turn out different, but there is poor old
Gazza
, so nearly the nation's hero, so nearly the one to bring football home, millimeters away from glory, agonisingly failing to convert the golden chance.
Extra-time came to a close, and it was time for the dreaded penalties.
Both sides were looking strong and scored their first 5 penalties. Then, a nervous looking Gareth
Southgate
stepped up to take England's 6
th
spot kick, and the rest is, as they say, history.
It was limp penalty, put far too close to the keeper who easily saved. Germany slammed their 6
th
one in, and were into the final.
Southgate
became the national figure of ire and would forever be associated with that miss. Much like Waddle before him, he was seen as the one who cost us a place in the final. Maybe they both did take fairly crap penalties, but they had the nerve to step up and take one, and I doubt most of us could have done much better with that vast amount of pressure heaped upon us.
At the time though, it was like the end of the world. As mere young whippersnappers, me and my friends had never really considered we would lose, this was our first real taste of following England and we'd only really heard stories of
Italia
90. It wouldn't happen again, not to us.
Alas though, history has an unfortunate knack for repeating itself.
This was real disappointment. Proper; hang your head and don't speak for hours disappointment. It wasn't some minor disappointment, like when you realise it's a Lisa based Simpson's episode or that DVD shaped present you open at Christmas is actually a book. No, this was the real deal.
As the BBC team finished their coverage for the night, they singed off with a mournful montage, complete with Brit Pop also-rands
Cast's
melancholy ode to admitting defeat 'Walk Away' playing over the footage. Somewhere, in deepest darkest
Staffordshire
, four heartbroken 11 year
olds
sat in silence.
From this point on, I was fully braced for defeat at every major tournament. The optimism and hope of youth had been extinguished by Gazza's small feet, and Southgate's weak kick. From now on, I approached every game as one there for us to lose, and every penalty shoot out as a lost cause. As you can tell, watching football with me is a right barrel of laughs.
Pain rating: 10/10.

Next up: Part 2: 1998-2002 - Yeeeeeesss big Sol has scored!!!! Wait a minute, what's the Ref blowing for?